NXT was developed for high impact resistance to replace Polycarbonate. NXT passes all impact resistance standards. The test with bullet proves no crack even after such impact and still visible clearly without strain. Thank to this astounding robustness, NXT can prevent various accidents in our daily life. Not only high impact resistance but also high chemical resistance is assured with this high tech material. Even with this features, NXT is about 10% lighter than polycarbonate and 16% lighter than CR39.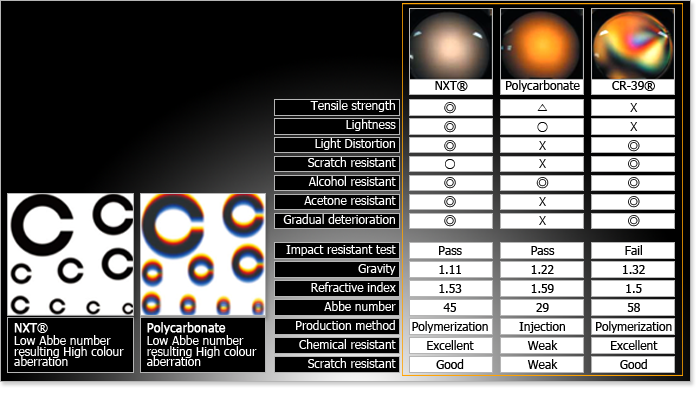 For fashion use, it was common to tint color on surface of lens, but these tints are easily faded as time goes by. However because NXT adapted "dyes bonding technology" tinting dye as well as UV filtering agent are trapped inside but located closer to the front surface. Thanks to this up-to-date technology, it doesn't fade and it keeps uniform color and also it blocks 100% the harmful UV.

NXT is optically very stable, that is no internal nor external stress which can affect optics are induced during production, which are not like the one from Polycarbonate. So even after long use, you may not feel uncomfortable.

DIO NXT is provided with additional treatment, such as polarized, photochromic, a variety of colors, and special mirror coatings. Depending on the sports activity or outdoor life, wearers can have various options.

DIO NXT is highly recommended to the wearer of sunglasses as well as to the people who enjoy outdoor sports activities.

** DIO NXT : NXT is registered trademarks of Intercast.