Dynamic Vision Optimization for clear panoramic vision

One of key factors with DIO Sports Optima is consideration of dynamic vision. Our eyes continuously rotate, change sight direction, and focus far or close on the objects at different distances. Considering these biological property of our eyes, DIO Sports Optima simulate wearer's eye movement in variety of situation and apply the achieved results on lens design. That is, wearer's eye sight are re-organized and compensated per each angle and distance. Thanks to this up-to-date technology, wearers can enjoy comfortable visions.
Individually customized and optimized vision
Because every wearer have different ergonomic data even if they have certain category of prescription, their lenses also should have different optics. Lenses with same prescription cause finally different effect to the wearer depending on wrap around angle, tilting angle, and the distance between eyes and lenses. And these effects become more important in sports frames and high curve sunglasses. In this reason, these critical factors should be considered for best optic for individual wearers. DIO Sports Optima provides individually customized and optimized vision.
Precisely matched front curve to sports frame's curve
DIO Sports Optima provide precisely matched front curve to sports frame's curve. So the design of the sports frames can stay as it is without deformation. In addition, remote edging and glazing service is also possible with up-to-date CNC finishing facilities.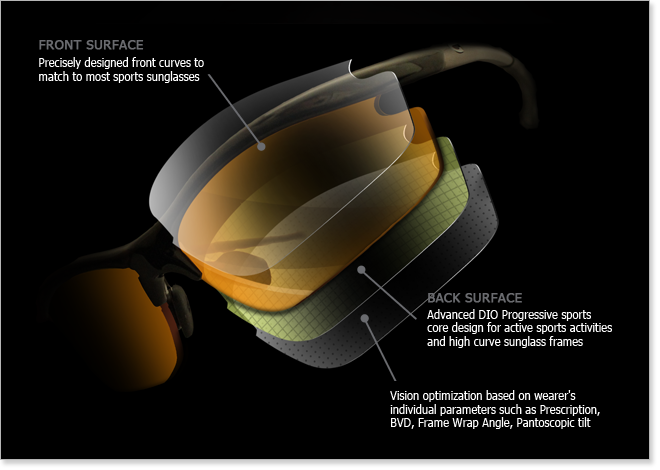 Recommended to presbyopia who energetically enjoy extreme sports or leisure activities.