As worn compensated prescription

DIO Sports Mono is not simply high curve prescription lenses which are usually adapted by many wearers. If it is just like that, wearer will feel uncomfortable or face even dangerous situation. This is because nominal prescription, if applied to highly wrapped frames, generates unwanted cylinder, prism, and even too much or too less spherical power eventually. Not like normal high curve lenses, DIO Sports Mono adapts each wearer's own ergonomic parameters and compensates and re-organizes target prescription to be optimum. That is, DIO Sports Mono re-organizes the sight wearers will experience for comfortable vision.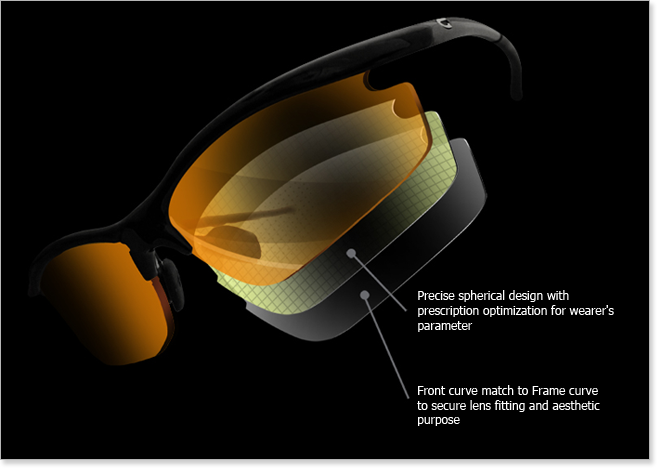 0.01 Step optimized precise spherical SV high curve lens for wraparound sports sunglasses DIO Sports Mono control and optimize wearer's vision in 0.01 step rather than 0.25 step. Lens surfaced are numerically differentiated into over 100,000 micro points when we design the lenses. And then, we apply most proper optic value in each point. Thanks to this precise optics control, the achieved vision is clearer and more comfortable.
Max diameter up to 80mm
DIO Sports Mono provide the solution for big eye shape of highly wrap-around sports frames. Bigger diameter and decenteration depending on the size of sports frame can be selected.
Variety of lens material and treatment available
Depending what kind of sports users will enjoy, lens material and treatment such as tinting and coating should be different. Variety of lens material, mirror coating, tints and filters are available to meet the functional as well as aesthetic requirement from any kind of sports activity. Recommended to people who want to enjoy clear and safer vision during all kinds of sports activities.